Our local church history starts back in 1859 when Merritt G. Kellogg (the brother of Will K. Kellogg, the famous breakfast food pioneer of Kellogg Corn Flake fame) traveled to the bustling city of San Francisco in a small wagon train. As a Sabbath-keeping Adventist, Kellogg organized a small group of thirteen people in his living room for weekly services. Unfortunately, the Civil War years were hard on the group. The members became discouraged and some moved away.
Undaunted, Mr. Kellogg raised $133 to hire a minister for them. No pastor wanted to come all the way to San Francisco, but Mr. Kellogg kept searching for several months until finally J.N. Loughborough and D.T. Bourdeau answered the call to come to San Francisco in 1867. Although Elder Bourdeau left within a year, Elder Loughborough ended up working in California for nearly 50 years; and might be considered, along with Mr. Kellogg, a founder of Central Church.
(That's why we named our Fellowship Hall the Loughborough Center, even though most people can't pronounce "Loughborough" correctly. Kellogg Center would have been so much easier!) It was too expensive to pitch a tent to hold meetings to share the Gospel and Bible teachings with those living in San Francisco, so they said, "Hey, let's go north to Sonoma County to hold our meetings." Their hard work paid off as they were able to establish half a dozen congregations in the area over the next two years, with Petaluma becoming the first organized Seventh-day Adventist church in California.
In the winter of 1872 James and Ellen White, Adventist Church pioneers, visited the small group still meeting in Mr. Kellogg's living room in San Francisco. They were so impressed with their dedication and the need for a church building that the Whites sold their house in Battle Creek, Michigan, and advanced $6,000 to help build a church at 914 Laguna Street.
Eventually, the congregation outgrew the Laguna Street Church, and on March 15, 1927, 55 years after James and Ellen helped build the first Adventist Church in San Francisco, the Church Board voted to purchase the Methodist Church at the corner of California and Broderick Streets. This is the current building where we now worship.
This church was built in 1892 by shipbuilders who worked on it in the "off-season," and was solid enough to withstand the 1906 earthquake. Although part of the church tower was toppled by the lesser quake of 1957, Central Church came through the 1989 Loma Prieta earthquake largely unscathed.
Many people who are impressed with the beauty of our church aren't aware that Central Church has such a grand history to go with it and that there's a piece of that history in our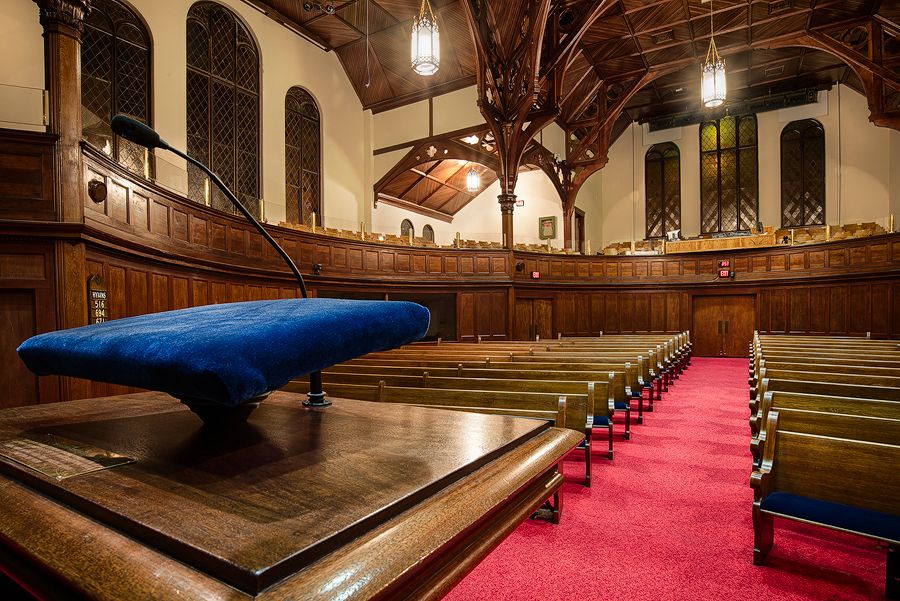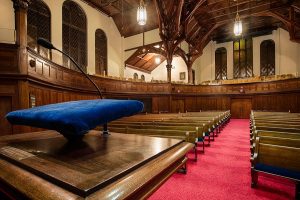 sanctuary. Our sanctuary pulpit is a hand-carved walnut lectern that was used for many years at the Laguna Street Church by J.N. Loughborough, James White, Ellen White, D.M. Canright, and other Adventist pioneers that preached in San Francisco. Though Ellen White never spoke at our current location, as she passed to her rest in 1915 (twelve years before this building was purchased), we still appreciate the connection that our pulpit gives us with those early Adventist pioneers, leaders, and missionaries who willingly experienced many hardships in order to bring the gospel truth to San Francisco so many years ago.