Learn More about God and Grow Your Faith!
Just as a child needs to eat in order to grow, so Christians need to study God's Word in order to grow in their spiritual life. Do you want to become stronger in Christ? Do you want to understand the Bible better? Do you have questions about God and Biblical teachings?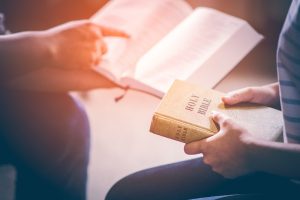 We have a few options for you. The first is having personal Bible Studies with one of our Bible Coaches; they will meet with you and personalize a Bible instruction plan that will fit with your schedule and needs. They can meet with you online, by the telephone, or at a safe natural location, like a quiet café or coffee shop, to study the Bible and assist you in finding answers. Simply contact us  and we'll coordinate this with you and give you more information.
Another way to grow your faith is using Bible Study guides, which allow you to study the topics you are interested in at the time that works best for your schedule. The following links will take you to excellent Bible Studies that you can study online or, in many cases, you can request to have a printed copy mailed to you, free of charge.
Here you will find many tools to build your faith, and help you share your faith with others.  Daily devotionals, a free Bible School, and videos are just a few of the many resources you will enjoy at The Bible Universe.
Discover a secret gift, known by few for a millennia, that brings ongoing rest and rejuvenation. God's law includes a solution for burnout, the Sabbath. Discover the rest God created for us.
Our world is filled with dark rumors and misinformation about God that has many people either running from Him in horror or trying to serve Him like slaves. [truth]LINK is a unique Bible study experience that achieves a high level of doctrinal clarity while showing the centrality of God's love to every biblical truth.